Adventuring into farmers markets in Burlington is a great way to support the community, engage in local culture, and enjoy the freshest foods.
Whether you're after the beer and cheese tasting on a lazy weekend or just want to immerse yourself in the culture of Vermont's thriving agricultural and livestock markets, there are many great ways to enjoy the Burlington farmers market experience.
Chat with local farmers to learn about the best products, enjoy the freshest produce, and pick up some all-natural beauty products right from your local area.
With crafts, live events, hidden seasonal treasures, and handmade baked goods, there's always something waiting for you right around the corner at your local farmers' market in Burlington, Vermont.
Our Favorite Burlington Farmers Markets
Table of Contents
Daily Farmers Markets Burlington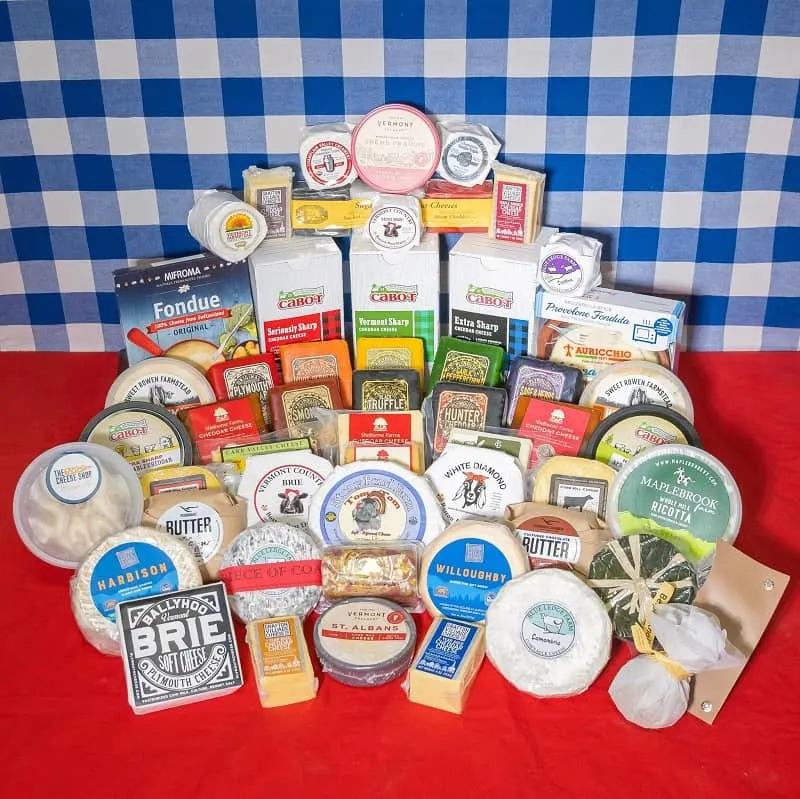 Where: 1186 Williston Road, South Burlington, VT, 05403
When: Daily, Monday to Saturday; 10 AM to 7 PM
Why visit:
Cheese and Wine Traders is the perfect place to visit if you love cheese and wine.
It offers tastefully curated selections of cheese, wonderful wines, and the chance to build your own basket of goodies.
This Vermont family-owned business is an independent specialty store that offers local products, handmade gift baskets, and lots of cheese.
Their artfully selected collection of 1,500 wines is magnificent, some sourced locally and others from around the world. Boasting a wine for every palate and budget, Cheese and Wine Traders is well worth an afternoon's adventure.
Where: 222 Dorset St, South Burlington, VT 05403
When: Daily, Monday to Saturday; 7 AM to 9 PM
Why visit:
Another great option for anyone after an authentic farmers market in Burlington. Healthy Living Market is all about promoting a sustainable lifestyle.
They offer lots of specialty foods to cater to vegetarian, vegan, and gluten-free diets, offering great food and great company.
You can find them at 222 Dorset Street in South Burlington. If you want fresh roasts, hams, seafood, and delicious desserts, then this is your market.
Healthy Living Market's mission is to promote healthy eating and gathering together over food, so if you're looking to support the community and shop locally, this is the market for you.
Where: 200 Leduc Farm Rd, Shelburne, VT 05482
When: Monday-Friday 8:00-4:00; Saturday 8:00-1:00
Why visit:
Bread and Butter Farm is not just a market—it's an entire learning experience.
Try out their classes for children of all ages to teach them about husbandry, farming, woodworking, cooking, gardening, and even music.
In addition, you can try locally grown produce and enjoy the fresh taste of sustainably caught wild salmon. Head over to the café for lots of gourmet butter drinks and more local products than you can shake a stick at.
Make sure to drop by in the summer to enjoy the burger nights with live music. Gluten-free meals are also available for those with sensitivities or allergies.
Where: 277 Lavigne Rd, Colchester, VT 05446
When: Daily, Monday to Saturday; 7 AM to 7 PM
Why visit:
Sam Mazza's farm is a great place to visit if you want something a little off the beaten path. Three generations of the Mazza family run the farm on a day-to-day basis, keeping the 350-acre Colchester farm operating smoothly.
With a yearly schedule of events, including strawberry season, a pick-your-own berry adventure, and a good old-fashioned corn maze, there are lots to see and do around the area.
Check out the Greenhouse for stockpiles of houseplants or the Gift Department for any souvenirs. Most of all, Sam Mazza's offers excellent fresh produce, including blueberries, peppers, cucumbers, tomatoes, cabbage, eggplant, and, of course, home-grown corn.
Sam Mazza's is one of the best Burlington Farmer's market spots to check out if you want some good old-fashioned produce.
Also Check: Best Farmers Markets in Vermont
Where: 22 Barber Farm Rd, Jericho, VT 05465
When: Daily, Monday to Sunday; 8 AM to 6 PM
Why visit:
Another great spot to visit is Jericho Settlers Farm which offers good food year-round.
Jericho is a wonderful spot if you're looking for the best certified organic vegetables. Their commitment to great food is paramount, and their sustainable farming practices are commendable.
Best of all, Jericho Settlers Farm is connected to a network of customers and supporters who feed into the growth of the local community, and Jericho Farm donates food and helps fundraise for those in need.
They also offer pasture-raised and grass-fed meats, such as chicken, pork, and beef. You can buy as CSA shares or get individual cuts for dinner at the farmstead.
For the freshest taste, you can also purchase roots in bulk for potatoes, carrots, cabbage, beets, and turnips.
Wednesday Farmers Markets Burlington
6. Jeffersonville Farmers' and Artisan Market
Where: 149 Old Main St, Jeffersonville, VT 05464
When: Wednesday, June – October; 4.30 PM to 7.30 PM
Why visit:
The Jeffersonville Farmers and Artisan Market is a vibrant, bustling market that offers a wide selection of organic and locally grown produce from local farmers as well as homemade artisan items from local artisans.
Enjoy the quaint Jeffersonville atmosphere with fantastic blues music, local produce, and baked goods to try. The ice cream vendors are to die for, but it's not just sweet products at this market.
You can also find the freshest fruits and vegetables, handmade jewelry, pottery, photography and paintings.
Make sure to stop by if you don't mind the journey to support local businesses, promote sustainable agriculture, and connect with the locals.
Friday Farmers Markets Burlington
7. Richmond Farmers Market
Where: Volunteers Green, 300 Bridge St, Richmond, VT 05462
When: Friday, June – October; 3 PM to 7 PM
Why visit:
About 20 minutes from Burlington, the Richmond Farmers Market is dedicated to promoting sustainability and strengthening the connection between producers and consumers.
It boasts over 40 vendors selling items such as jams and jellies, maple syrup, farm-raised meats, vegetables and fruits, artisan breads and pastries, eggs, cider donuts, honeycomb candles and much more.
The market also hosts musicians and family-friendly entertainment every week from 4 pm to 6 pm.
Each month, the market strives to celebrate Vermont agriculture with a unique celebration. They invite farmers, agriculture advocates, educators, and community members to take part in both organizing and participating in these events.
It's a thriving market with lots of vendors and crafts to participate in, and if you want to grab some souvenirs to take home, this is the perfect Burlington farmers market in the area for you.
Saturday Farmers Markets Burlington
Where: 345 Pine St
When:
Winter Season: Select Saturdays | November 19, December 3 & 10; 11 AM-2 PM
Summer Season: Every Saturday | May 6 – October 28; 9 AM-2 PM
Why visit:
It should come as no surprise that one of the most popular farmers markets in Burlington is simply named 'Burlington Farmer's Market.'
Described as a marketplace of farmers, specialty food, artisan crafts, and producers, the Burlington Farmers Market is a community and tourist destination for all ages.
Live music, dozens of vendors, fresh produce, baked goods, arts and crafts—what is there not to love?
All vendors are Vermont residents and only sell what they produce themselves, so there's no funny business at this market.
The Burlington Farmer's Market also boasts an impressive array of pastries, and its perfect location in City Hall Park during the summer makes it a great place to relax and spend the day.
Also Read: The Best Farmers Markets in the USA
9. Shelburne Farmers Market
Where: 12 Church St, Shelburne, VT 05482
When: Saturday, May – October; 9 AM to 1 PM
Why visit:
The Shelburne Farmers Market is a great place to visit whether you're a resident or a first-time visitor. Escape the busyness of the town and escape to a terrific market with a lot more variety than meets the eye.
With fresh vegetables, meat, flowers, crafts, and more, there's always food and fun at Shelburne Farmers Market.
You can usually expect some great live music, too, and the chill atmosphere makes this place a must-visit for anyone interested in a farmers market near Burlington.
Stop by for a Saturday brunch and grab some fresh-baked goods in this kid-friendly, dog-friendly paradise.
Best of all, the market is nestled right in the heart of downtown Shelburne, a place thriving with history. As such, you can make a day's trip out of the adventure by visiting the farmers market and stopping by the town to enjoy the local culture.
Sunday Farmers Markets Burlington
10. Winooski Farmers Market
Where: 20 Winooski Falls Way, Winooski, VT
When: Sunday, May 29 – October 16; 10 AM to 2 PM
Why visit:
The Winooski Farmers Market is a great place to kick off a vacation in the Burlington area, with friendly vendors and lots of great foods to try.
The market isn't massive, but the quality is what brings customers back year after year. Try some tremendous salad mixes, source some local eggs, and pick up some fresh produce.
Winooski is a beautiful place to visit, and there are lots of local shopping opportunities nearby to turn your farmers market trip into a full-day adventure.
If you should find yourself in the area, make sure you pick up a beeswax candle from Bee Happy at this Sunday farmers market in Burlington.
FAQs about Burlington Farmers Markets
What is the biggest farmers market in Burlington?
The biggest farmers market in Burlington is the Burlington Farmers Market, which sees thousands of people visiting each year.
What are the good Burlington farmers market Saturdays?
Burlington Farmers Market is open every Saturday in summer and selected Saturdays in winter, offering lots of great food, crafts, and events to enjoy on the weekend.
What are the good Burlington farmers market Sundays?
Winooski Farmers Market is open on Sundays and perfect for a lazy afternoon. Enjoy the local produce and wander around the vendor stalls for novelty items at this local market.
What are the famous Burlington Farmers Markets?
The Burlington farmers market is the most famous market in Burlington, quite simply thanks to its size, beautiful location, and a long list of excellent vendors.
Final Words: Farmers Markets in Burlington
There are many great ways to enjoy the farmers market in Burlington, and if you want great food, company, and good times, then these are definitely the cultural hubs you should check out.
Find the best in local produce, engage with the community, and enjoy the activities provided.
There's so much to see and do in Burlington farmers market that it's well worth setting aside an afternoon or even a whole day to see what local produce is waiting for you.