Boise lives up to the hype of being the capital city of Idaho. With its bustling culture of good food, music, art and culture, there is a lot to explore here.
Agriculture is one of the exponentially growing industries. Pesticide and chemical-free produce, fresh veggies, and fair practice farm products at Boise farmers markets are perfect to reap the benefits of local farming and cultivation.
It's time to shop small, eat fresh, and revel in the local experience of Idaho, so buckle up; we have a list of farmers markets in and around Boise.
Our Favorite Boise Farmers Markets
Table of Contents
Daily Farmers Market in Boise
1. Campos Market
Where: 413 N Orchard St, Boise City
When: Daily, 9 am to 9 pm
Why Visit:
Looking for Mexican fare and traditional pantry essentials all the way from Mexico? The Campos Market is the place to be.
The grocery section is fully stocked with the choicest of Mexican spices, sauces and veggies. At the back of the grocery store is the restaurant.
Order yourself from the highly coveted scrumptious selection of tacos, salsa verde, rice bowls, tamales and much more and grab a seat at one of the tables.
There is a wide variety of Hispanic foods not commonly available around Boise. The butcher shop is quite popular amongst the locals too. The market is a hidden gem and worth a visit for Mexican food lovers!
2. Reggie's Veggies
Where: 8199 W Ustick Rd, Boise
When: Daily, 10 am to 6 pm (Closed Sunday)
Why Visit:
Reggie's Veggies is a renowned organic farm in Boise that provides an array of fresh produce to the local community. It is a fresh produce paradise; there are veggies and fruits galore!
From juicy heirloom tomatoes to crisp lettuce, the farm offers an extensive range of seasonal produce that is sure to delight any food connoisseur.
There is a recurring customer base for the wide variety of peaches, berries, cherries, organic pumpkin, squash and even herbs and seasonings. It's common to find great deals and discounts on Honeycrisp apples, oranges etc.
They have the best Christmas trees at the onset of the holiday season for you to choose from. If you're looking for fresh, wholesome produce that is both good for you and the planet, Reggie's Veggies is definitely the place to go.
Where: 2087 W King Rd, Kuna
When: Early Summer – October, 9 am to 6 pm (Thursday – Sunday)
Why Visit:
The Cabalo's Orchard and Gardens is a family-owned orchard. The seasonal family business owns an expansive 10 acres of land utilized primarily for fruits and some for veggies.
Fresh, juicy and crisp fruits like apples, peaches, plums and watermelons grown with organic practices are worth trying. There is a niche fan-following of this business which return every season for the delicious fruit.
They also offer hayrides in the pumpkin patch season and have a u-pic facility for selected veggies ad fruits like green beans, garden peas, blackberries and so on. It's a great place to spend a day with your kids and loved ones.
Apart from produce, you can also buy raw cider, jams and jellies, organic honey and other packed items. They also sell farm-raised turkeys for the holiday season.
4. 34th Street Market, Garden City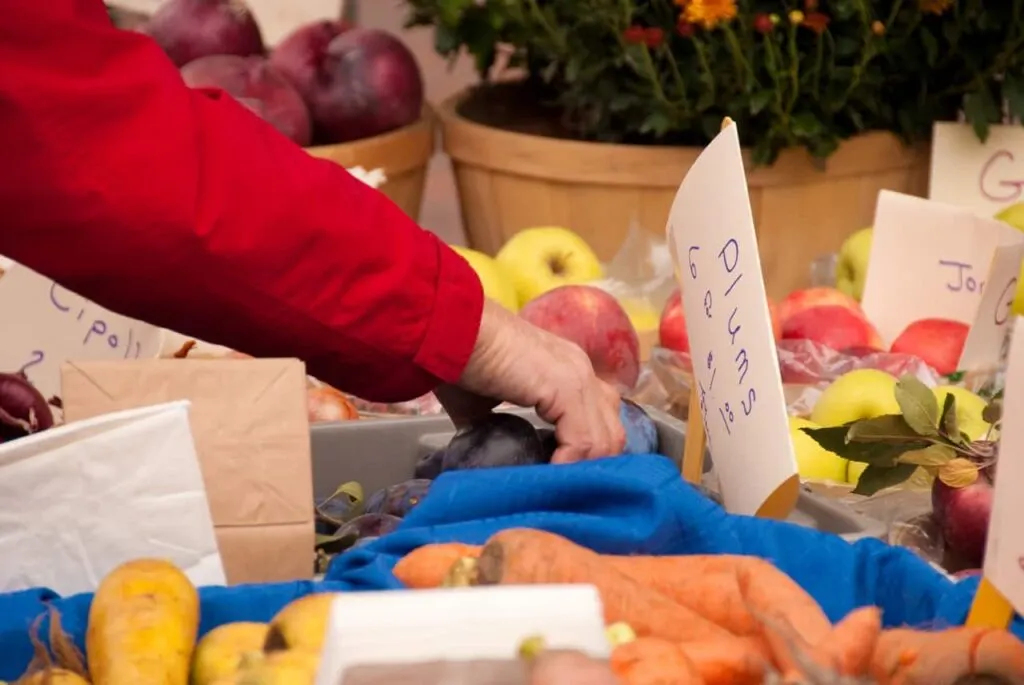 Where: 303 E. 34th Street, Garden City
When: Year-round, Wednesday: 5 pm to 8 pm, Saturday: 9 am to 2 pm
Why Visit:
The 34th Street Market is Boise's hidden gem, so remember you read it here first!
Located right along the Greenbelt, next to the river and a surf wave, plan a visit to this scenic mid-week and weekend farmers market right away. Enjoy live music and a breezy chill vibe with your friends, family and furry babies.
A plethora of eateries and open-air bars set the mood right for a lovely evening out. Grab a seat under one of the big umbrellas and try out the variety of mocktails and IPAs on offer. Great options for lunch and dinner here with a river view.
Besides food and drinks, you can find art, décor, farm produce and fresh fruits. An exciting mix of a little bit of everything is on offer here.
Where: Multiple locations
When: June – September, Monday-Thursday (varying timing depending on location)
Why Visit:
The Boise Farmers Mobile Market is nothing like your conventional; farmers market. Come along for the ride and follow the chronicles of Vanna the Van.
This mobile market sets up four days a week and moves to various locations throughout Boise. Make a run to your nearest location for your mid-week grocery needs.
This initiative has given Boise a chance to support the local community and promote local agriculture and business.
Green leafy veggies and other fresh produce have become easily accessible to the citizens of Boise. Look forward to micro greens and mushrooms, stone fruits like peaches and plums, salad mix, radishes, squash, zucchini and much more.
Tuesday Farmers Market in Boise
6. Farm to Fork Farmer's Market, Caldwell
Where: 120 S. Kimball Ave Caldwell
When: Year-round, 5 pm to 9 pm
Why Visit:
Open on Tuesdays, the Farm to Fork Farmer's Market is a lovely mid-week market to spice up your weekdays.
The farmers market is part of the "Tuesdays on the Creek Concert Series", where you can be enthralled by the summer concerts from various local artists held between 6 pm to 8 pm.
The Caldwell is a major production base in Idaho, with many generational family farms growing beautiful, nutritious veggies.
The market features 30-40 vendors and a couple of food trucks. There is fresh produce, herbs, meat, poultry items, cheeses, honey and much more.
Moreover, you can find a good variety of condiments and seasonings, local brews, sauces, hummus and so on.
There is plenty of free parking near the market. You can support the local community through various charitable stalls at the market.
Wednesday Farmers Market in Boise
Where: Blaser Park At Washington Ave, Emmett
When: June – October, Wednesday: 3 pm to 6 pm, Saturday: 9 am to 1 pm
Why Visit:
The Emmett Farmers Market in Idaho is a quirky and delightful weekly event that draws in visitors from all over.
Held every Wednesday and Saturday, this market boasts a diverse array of locally grown produce, ranging from seasonal fruits and vegetables to honey and flowers.
But the market is more than just a place to shop for fresh goods – it's a hub of sustainability and environmental consciousness. Close to 40 vendors use organic farming methods.
Aside from the fresh produce, the Emmett Farmers Market also offers artisanal crafts and handmade jewelry that are unique to the area.
And don't forget the live music and delicious food vendors serving everything from breakfast burritos to BBQ.
With its friendly atmosphere, quirky vendors, and emphasis on sustainability, the Emmett Farmers Market is a must-visit destination for anyone seeking an eco-friendly and fun-filled adventure.
Also Read: The Best Farmers Markets in Memphis, Tennessee
8. Fruitland Farmers Market, Fruitland
Where: 816 N. Whitley Fruitland
When: May – August, 5 pm to 7:30 pm
Why Visit:
The Fruitland Farmers Market is a seasonally held market at Jack Henry Coffee House in Fruitland, Idaho. Open on Wednesday evenings; the market focuses primarily on produce. You can find everything and so on.
The market has a great variety of fruits and veggies, all grown by local farmers who take pride in their produce.
You can find everything from juicy peaches and plump tomatoes to crisp lettuce and colorful peppers, from green beans, bok choy, beets, and peppers to corn and turnips.
And don't forget to check out the homemade jams, bread, and other tasty treats! There is live music at the market, along with freshly baked bread, scones and muffins.
Saturday Farmers Market in Boise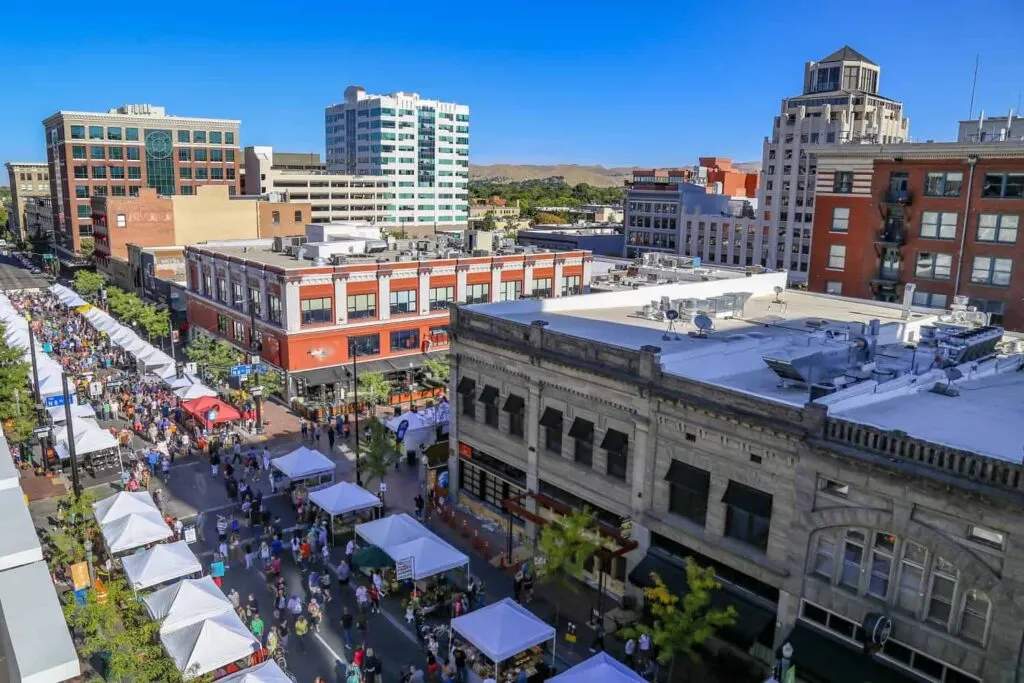 Where: 1500 Shoreline Drive, Boise
When: April – September, 9 am to 1 pm
Why Visit:
This Saturday farmers market in the heart of Boise is a chef's and food-lovers delight! The food-centric market has a large variety of fruits and produces to offer.
With close to 100 vendors, it is best to reach here early to make the most of the fresh veggies and herbs at the market.
Cozy up with freshly roasted coffee and take a stroll around the market, sample food items from various booths, stock up on baked delicacies and learn about local farms and vendors of Idaho; sounds like a good plan, right?
This market is quite a crowd favorite with a loyal fan base of locals who visit regularly. The parking is convenient and plentiful. Sadly, your four-legged friends are not welcome here.
Also Read: The Best Farmers Markets in the USA
Where: 827 W Main St, Boise
When: April – December, 9:30 am to 1:30 pm
Why Visit:
Boise's very own downtown Saturday farmers market is located on the Grove Plaza. The capital city public market has been in operation for nearly three decades and is worth visiting.
Trust us; you will be coming back after your first taste of the sights and sounds of this farmer's market.
The market boasts a whopping 150 vendors at peak season. Be sure to find not only fresh produce and fruits but also the farmers market crowd favorites like fresh flowers, organic honey, home-brewed beer, wooden artifacts and kitchen equipment, home décor, skincare, wellness products and much more.
Sweet and savory freshly prepared foods and ready-to-go snacks are abundant at the market. Parking is ample, both free and paid. Dogs are welcome, but there are strict rules on their website to which one needs to adhere.
11. Eagle Saturday Market
Where: Heritage Park & 1st Street, Eagle
When: May – October, 9 am to 2 pm
Why Visit:
The Eagle Saturday Market is a vibrant community event held every Saturday in the heart of Eagle, Idaho. This is a seasonal Saturday farmers market with a significant variety of up to 90 vendors.
The market is a vibrant hub of activity where local vendors and farmers come together to showcase their products and promote shopping locally.
As a handmade market located in downtown Eagle, you can find a good mix of crafts and handmade items, fresh cut flowers, produce and fruits here. You can look forward to delicious ice creams, ice-cones, cookies and other baked goodies.
The Eagle parks and recreation department hosts artists and musicians, so enjoy live entertainment on your Saturday mornings. Grab freshly brewed coffee and take a walk in a lively and bustling atmosphere that draws visitors from across the region.
Where: Lloyd Square, 1 14th Avenue S Nampa
When: April – October, 9 am to 1 pm
Why Visit:
The Nampa Farmers Market equates to Saturday morning fun times with friends and family. The farmers market is fairly big, with close to 150 vendors at peak season.
You can find fresh produce and fruits grown locally within 100 miles. There is an especially large array of vendors offering craft, décor and artwork.
It's one of the most exciting farmers' markets out there, with a thrilling event calendar for you every Saturday. From mother's day to early Christmas, back-to-school day to Halloween, and many more, there is something exciting to celebrate each weekend.
A dedicated market chef is sharing cooking demos and recipes every week to help incorporate healthy eating habits into your lifestyle. This Saturday farmers market voted one of the USA's top markets, is worth visiting.
Where: 33 East Broadway Avenue, Meridian
When: April – October, 9 am to 1 pm
Why Visit:
The Meridian Street Market is a small cozy market with about 20-30 stalls. There is live entertainment and plenty of culinary delights to savor as brunch, lunch or snacks.
The meridian market was traditionally a youth market, but you can still find some stalls by young children and youth at this Saturday farmers market.
It's the perfect market if you like to explore arts and crafts. There are few options for produce and fruit vendors, the primary focus being craft items. Besides that, there are plenty of food stalls and trailers to try out lip-smacking treats.
There's ample free parking available, and owing to the small scale of the market, it is not too crowded. Enjoy a leisurely walk around the market, away from the crowds, while enjoying free samples of food and drinks.
FAQs about the Boise Farmers Markets
What is the biggest farmers market in Boise?
Capital City Public Market is the largest market in Boise, with up to 150 vendors in peak season. There is a wide variety of produce and food items on offer.
What are the good Boise Farmers Market on Saturdays?
Boise Farmers Market is a large-scale and famous farmers market open on Saturdays. There are close to 90 vendors in the market selling everything from foods to produce to décor and art.
What are the good Boise Farmers Market on Sundays?
The Cabalo's Orchard and Gardens is a great option for a Sunday day out. With options for u-pick and many children's activities, it's an exciting place to spend your Sunday.
What is Boise Farmers Market famous for?
Boise Farmers Market is famous for its handmade crafts and unique gifts that showcase local talent. From hand-woven rugs to intricate pottery pieces, there's something for everyone at this bustling marketplace.
Wrapping Up the Best Farmers Markets in Boise
If you're ever in Boise, Idaho, you must check out the farmers markets! There's a thriving collection of farmers markets in Boise, be it in the downtown area or the suburbs.
There are a few different ones around the city, but they all offer a great selection of fresh, locally-grown produce and artisanal goods.
One of the popular choices is the Boise Farmers Market, which is open on Saturdays. We have listed above many more of such fun markets.
All of these markets are a great way to support local farmers and businesses while also enjoying some delicious food and a fun community vibe.
No matter which market you choose to visit, you're sure to find something delicious and unique. So be sure to add the Boise farmers markets to your must-visit list!