One of the best things about Hawaii is that you'll get to shop at the Kauai farmers markets year-round.
Imagine an array of exotic fruits, extremely beautiful bouquets of flowers, and plenty of locals, tourists, and shirtless surfers – that's pretty much what every farmers market in Kauai looks like. And you should definitely pay a visit to at least the 15 best ones!
Here is a convenient list you might want to consult whenever you feel like cooking something extra fresh for dinner.
Our Favorite Kauai Farmers Markets
Table of Contents
Monday Farmers Markets in Kauai
1. Pau Hana Market
Where: 3-2600 Kaumualii Highway, Suite 1710, Lihue
When: year-round, 3:00 PM-5:30 PM
Why Visit:
This weekly Monday market takes place in the parking lot on the south side of Kukui Grove Center.
The location, by the way, is Kauai's largest lifestyle center destination. The giant 50-acre open-air space features over 50 restaurants and stores.
So, after getting your fresh produce, you can spend a few hours exploring what the stores have to offer and having a wonderful dining experience in one of the restaurants.
Pau Hana Market is great for picking fresh veggies, fruits, and flowers after work or school. And the best part about such farmers' markets that take place a bit later in the day is the fact that the produce might have been harvested that same morning!
2. Namahana Farmers Market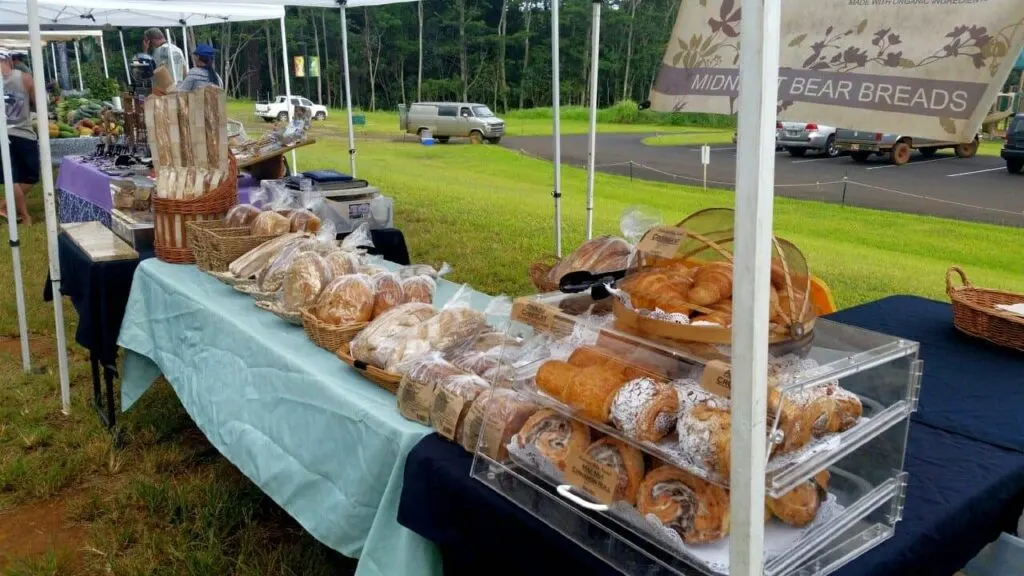 Where: Anaina Hou Community Park, Kilauea
When: year-round, 9:00 AM-1:00 PM
Why Visit:
The market is located along the north shore of Kauai and features fresh, locally grown produce and select prepared foods.
Explore the market and enjoy the views of the Albizia trees and the stunning mountain ranges.
This community-ran market is held on the part of the island where most organic farmers grow their produce. So, you can rest assured that you're buying the freshest products possible.
Tuesday Farmers Markets in Kauai
Where: 4-484 Kuhio Hwy, Kapaʻa
When: year-round, 9:00 AM-1:00 PM
Why Visit:
This farmers market in Kauai takes place every Tuesday and Thursday. You might want to arrive at the destination quite early as the produce can go quickly.
And don't forget to check Coconut Marketplace's calendar of events, as there are plenty of cool things taking place at the location nearly every single day. For example, you can enjoy a ukulele, hula, or lei-making class on Tuesdays.
You can also come back to the marketplace during the evening to listen to live contemporary and Hawaiian music on the center stage.
Where: 5-5785A Kuhio Hwy, Hanalei
When: year-round, 2:00 PM-dusk
Why Visit:
The market is located just west of Hanalei, in an open field, right between the one-lane Wai'oli and Waipa bridges.
The weekly farmers market is hosted by Waipa Foundation – an organization that aims to inspire healthy, thriving communities connected to their resources.
They organize special programs that help learners of all ages learn more about their land and how it can be used, and, of course, host a market where the locals and tourists can buy directly from the farmers.
Shop for Hawaiian classics, as well as freshly squeezed juices, cheeses, pies, pasta, chocolate-covered bananas, clothing, and a lot more.
There is an info booth on-site where you can buy some cool merchandise to help support the market.
Wednesday Farmers Markets in Kauai
5. Kapaa Sunshine Market
Where: parking lot at New Town Ball Park on Kahau Road, Kapaa
When: year-round, 3:00 PM-4:00 PM
Why Visit:
The Kappa market has one of the largest selections on all of Kauai. In fact, it features nearly 100 vendors.
But that does not mean everyone would be able to buy exactly what they came for. The market opens every week with a whistle blow, and all the customers waiting in line quickly rush to their favorite vendor.
The most popular ones usually sell out in only 10-15 minutes!
The majority of the professional farmers at the market are certified organic. Here, you'll find papaya, coconut, and plenty of other island fruits, taro burgers and goat cheese.
Also Read: The Best Farmers Markets in the USA
6. Kauai Culinary Market
Where: The Shops at Kukuiula, Poipu, 2829 Ala Kalanikaumaka, Koloa
When: year-round, 3:30 PM-6:00 PM
Why Visit:
One of the best ways to spend a Wednesday evening with your friends or family is by visiting The Shop at Kukuiula.
You'll get to wander the wonderfully landscaped grounds while listening to relaxing live music and shopping for a variety of locally grown produce, jams, pies, and so much more.
As the sun starts setting, you can head to the Wine and Beer Garden and enjoy a cooking demonstration hosted by one of the south shore chefs.
Usually, the chefs choose to cook local specialties, so you might also want to take notes on how to use the fresh and juicy ingredients you bought at the farmers market a minute ago.
Thursday Farmers Markets in Kauai
7. Hale Puna Farmers Market
Where: 9567 Huakai Rd. Waimea
When: year-round, 3:30 PM-5:30 PM
Why Visit:
All the money generated from this Kauai farmers market is used to support the farm school interns from Ke Kula Ni'ihau and preserve the nearly two-century-old Hale Puna house.
It takes place every Thursday under the old Monkeypod tree.
The produce is sourced from the Hale Puna educational Hawaiian food forest and a few other local growers.
Depending on the season, you might find avocados, passionfruit, eggs, limes, breadfruits, papaya, starfruit, pesto, hibiscus tea, sugarcane, and much more at the market.
8. Hanapepe Farmers Market
Where: Hanapepe Community Park
When: year-round, 3:00 PM-4:00 PM
Why Visit:
Hanapepe Farmers Market is one of the 5 Sunshine Markets in Kauai that takes place every Thursday in the Hanapepe Community Park.
The small south-shore town is a true art location with plenty of art galleries that sell local art, housewares, and jewelry. So, if you're looking for a more artistic vibe, Hanapepe should definitely make it to your must-visit list.
While you're there, you wouldn't have to compromise on the freshness of your food thanks to the relatively big farmers market.
Here, you'll find a few dozen vendors selling a wide range of fresh produce and spectacular tropical flowers in a festive outdoor atmosphere.
Friday Farmers Markets in Kauai
9. Kealia Farm Market
Where: 2345 Kealia Rd, Kapaʻa, HI 96746
When: year-round, 3:00 PM-6:00 PM
Why Visit:
This farmers market in Kauai is open on Mondays as well. The produce offered at the market is mainly grown on the 50-acre property of the Kealia Farm, and the farmers themselves are the ones who sell the products to the locals and tourists.
The farm's primary crop is taro, but you'll be able to find quite a few freshly harvested fruits and veggies here. The place is also known for making USDA-certified organic coconut water kefir – a raw probiotic food.
By the way, if you feel like it, you can book a walking or wagon tour around the farm.
Saturday Farmers Markets in Kauai
Where: 4411 Kikowaena St, Lihue
When: year-round, 9:30 AM-until supplies last
Why Visit:
If you're looking for extra fresh fish and local produce, you might want to head to this Saturday farmers market in Kauai.
Grove Farm is comprised of the lands from three formed sugar plantations and today features about 38,000 acres of land!
Even though Grove Farm does a lot of things, including managing agricultural land licensing and supporting renewable energy initiatives, the weekly farmers market is one of the main events that help bring the community together and educate the visitors about the importance of eating fresh and local.
There is also a Crafts Fair that takes place every first Saturday of the even month, so you might want to schedule your visit for one of those days.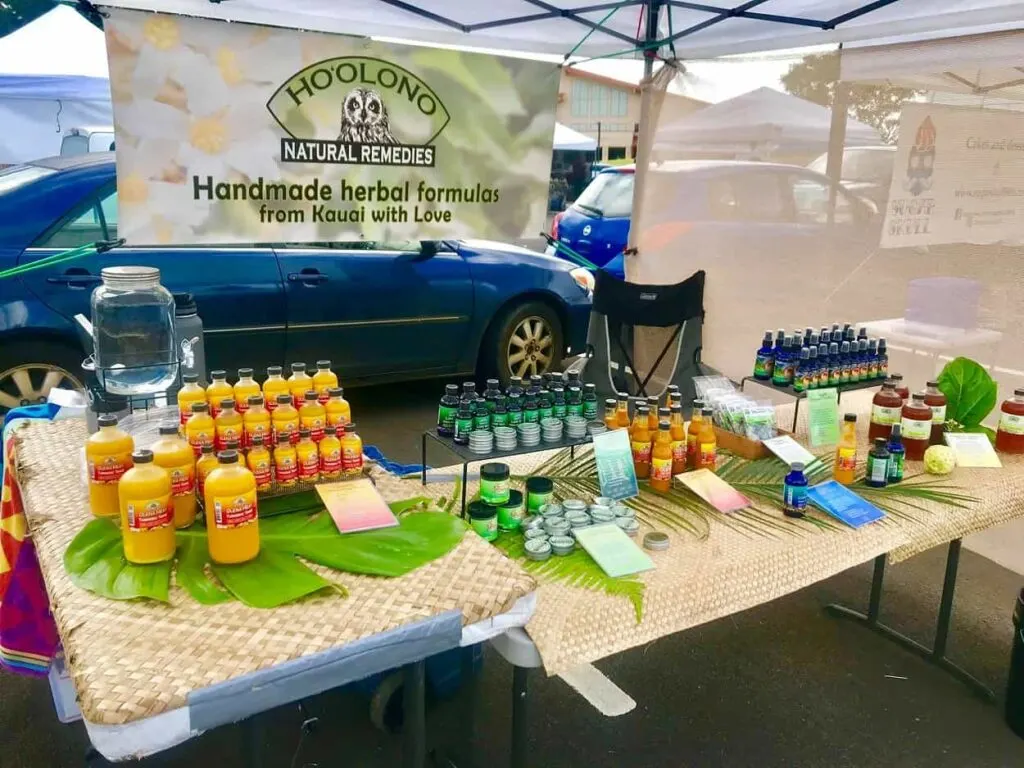 Where: 3 Kaumualii Hwy, Lihue
When: year-round, 9:30 AM-1:00 PM
Why Visit:
The market is proud to feature a variety of vendors who are not typically present at other farmers' markets on the island.
Along with all types of products, the vendors offer delicious ready-to-eat food and packaged food products (like Hawaiian plate lunches and poi).
Kauai Community Market aims to be a gathering place where farmers, visitors, and students come together to support agriculture on Kauai and learn more about buying fresh and local.
That's why the space is not only an open-air market but also a business and education incubator.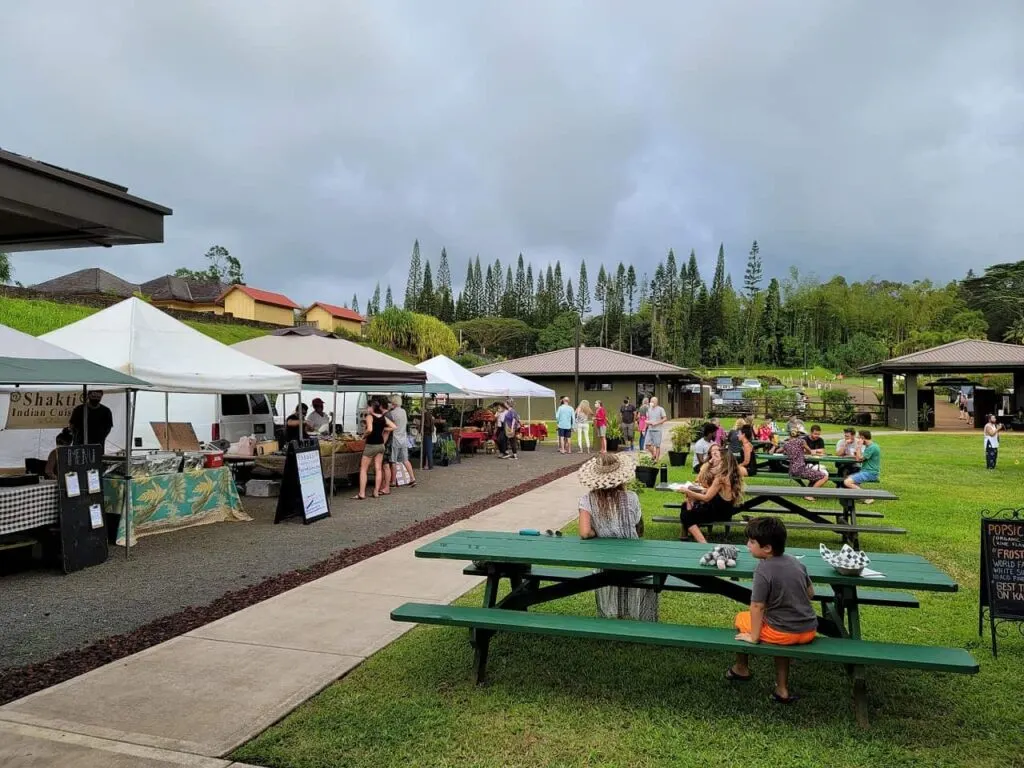 Where: Anaina Hou Community Park, Kilauea
When: year-round, 9:00 AM-12:00 PM
Why Visit:
This is the perfect market for the early risers as if you want to get the best selection, you would have to arrive here at 9:00 AM sharp. Otherwise, you might simply miss the action.
Here, you will find around 40 vendors selling Kauai-grown produce and handmade crafts. Some of the more unique offerings include delicious bread, shrimp kabob, Asian cuisine, and goat cheese.
You can also discover coconut hats and postcards that will make lovely souvenirs.
Where: 5299C Kuhio Hwy, Hanalei
When: year-round, 9:00 AM-12:00 PM
Why Visit:
Every Saturday, the green lawn just off Malolo Road is covered with over 50 stalls. You'll get to enjoy live music and get inspired by the view of the majestic peaks while shopping for your fresh produce.
Don't forget to try out the freshly squeezed juices, baked goods, award-winning salsa, and locally made honey. There are quite a few vendors offering handmade pieces, so make sure to check them out as well.
If you arrive at the market early enough, you might be just in time for the community yoga class.
Sunday Farmers Markets in Kauai
14. Princeville Night Market
Where: Princeville Center, 5-4280 Kuhio Highway, Princeville
When: year-round, on the second Sunday of every month, 4:00 PM-8:00 PM
Why Visit:
Princeville Night Farmers Market is not the kind of farmers market we are all used to. You will be able to find plenty of yummy food here made out of fresh local ingredients, but the market is mainly centered around having fun on a Sunday evening.
Shop for coffee, jewelry, and skincare while listening to live music, and then hit the dancefloor. The local community likes to set up their tents and streetlights well before dark, so finding the place won't be challenging at all.
15. Anahola Farmers Market
Where: 4541 Hokualele Rd, Anahola
When: year-round, 10:00 AM-3:00 PM
Why Visit:
The Sunday farmers market in Kauai has a rotating collection of farmers, makers, food vendors, and artists each week.
But there are also a few regular vendors that offer local fresh produce, baked goods, honey, coconut juice, vegan meals, and much more.
At the moment, the market is closed, but the locals and tourists hope that one day the beautiful place will hear the music of the Tahitian drummers and the laughs of the farmers again.
FAQs about Kauai Farmers Markets
What is the biggest farmers' market in Kauai?
The Kauai Community Market in Lihue features nearly 100 vendors, as well as the Kappa Sunshine Market.
What are the good Kauai Farmers Market Saturdays?
Hanalei Farmers Market, Kauai Community Market, Grove Farm Market, and Anaina Hou Farmers Market are the ones that operate every Saturday.
What are the good Kauai Farmers Market Sundays?
Sundays are not the best days in Hawaii for shopping for farm-fresh produce, but you might find something tasty and unique at the Princeville Night Market.
What are the famous Kauai farmers' markets?
Hanalei Farmers Market is the most popular market on the beautiful North Shore.
Final Words on the Farmers Markets in Kauai
Finding the best farmers market in Kauai is a relatively simple job, as all of them are amazing.
Of course, some are smaller, and some feature more vendors. But, all in all, you can always expect to find plenty of exotic fruits and vibrant flowers at a Kauai farmers market.
By the way, some of the vendors allow you to sample the products before buying. So, don't miss the opportunity to try out a fruit that you have never tasted before.