Richmond is the capital of Virginia and a melting pot of American culture. The citizens uphold a strong sense of community and love to support locals as much as possible.
It's not a surprise that Richmond has some great farmers markets, not only on the weekends but on weekdays too. There is something to suit everybody's needs.
Here's a list of the choicest selection of farmers markets in Richmond to choose from. Have a good day by shopping locally, eating healthy and clean, and spending quality time with your loved ones.
Our Favorite Richmond Farmers Markets
Table of Contents
Tuesday Farmers Markets in Richmond
Where: 1507 Grayland Avenue, Richmond
When: May – November: 3 pm to 6:30 pm
Why Visit:
Do you struggle to wake up early on the weekends for your usual Saturday/Sunday morning market? The Birdhouse Farmers Market is one of the rare mid-week evening markets in Richmond.
It is a well-established market, albeit small, with around 30 vendors. The market features live music and fun events like face painting etc. Kids can enjoy the petting zone – there are animals like goats, bunnies and so on.
Enjoy Tuesday evenings listening to local Richmond musicians and have fun in the open-air market. There are cooking demos, kids' activities, a composting program, and even a community space for NGOs for fundraising.
Their online market is open year-round; you can shop from Thursday to Sunday and get a curbside pickup on Tuesday.
2. Goochland Farmers Market-Courthouse
Where: 1889 Sandy Hook Road, Goochland
When: May – September: 4 pm to 6:30 pm
Why Visit:
The Goochland Farmers Market is a seasonal farmers market set in a rustic village like park-setting. It is a weekday farmers market near Richmond, sponsored and organized by the Goochland County Department of Parks & Recreation.
It's a boutique market with limited vendors, open on Tuesdays, featuring artisanal products and organic produce. You can enjoy live music, explore the food trucks and support the Goochland community.
Head out for organic meats, fresh produce, seasonal fruits, freshly baked bread, flavored cheese, local butter and all the kitchen essentials.
You can find vibrant cut flowers and plants for your home. Interestingly, they hold occasional events to engage the community, celebrate poetry, father's day, holiday sales, and much more.
3. The Montpelier Center Farmers Market
Where: 17205 Mountain Rd, Montpelier
When: May – September: 4 pm to 7 pm
Why Visit:
The Montpelier Center is an NGO that runs many programs, including the Montpelier Center Farmers Market. Open on Tuesdays, come here for a taste of country living and participate in the various events and programs by the NGO.
The market started in 2016 and has been running successfully since. It's a producer focussed summer market featuring local and fresh produce.
The local musicians play here, and there are new artists every week. There are new food trucks every week, and the updated list is on their website weekly.
Look for local honey, grass-fed meat, mushrooms, baked goods and the fun atmosphere of the Montpelier Center Farmers Market.
Wednesday Farmers Markets in Richmond
4. Lakeside Farmers Market
Where: 6110 Lakeside Ave., Richmond
When: Year-round, Saturday: 9 am to 12 pm, Wednesday: 9 am to 4 pm
Why Visit:
The Lakeside Farmers Market is a lovely Saturday and mid-week farmers market in Richmond. The market is near the botanical garden and close to the local market and cafes. So you can explore the nearby areas while visiting the market.
It's a small-scale market loaded with farm produce, snacking, and meal options. People come here regularly for fresh strawberries, blueberries, plums and more. Jams, pickles and preserves are also popular amongst frequent visitors.
There isn't a lot of variety as the number of vendors is limited, but the existing vendors bring in top quality. There is ample parking, and part of the market is under a shaded shelter while the rest is outdoors.
5. Chesterfield County Farmers Market
Where: 6701 Mimms Loop, Chesterfield
When: May – September: 11 am to 2 pm
Why Visit:
Chesterfield County Farmers Market is another stellar weekday farmers market near Richmond. Open on Wednesday, it's perfect for an evening excursion if you are looking for a mid-week respite.
You will find culinary artists, local producers and growers, artists and musicians here. Seafood, milk and poultry products, baked foods and much more are a part of the regular shoppers' list that come here.
It's a mid-sized market with approximately 50 vendors or so. Handcrafted baskets, bracelets and décor items are also sold by artisans and children who are fundraising for the community or personal causes.
Make the most of this seasonal summer market and spend sunny days outside. Besides the designated opening season, they also set up for their winter market and other occasions.
They also have an online shop with pickup available to meet your healthy eating needs.
Also Read: The Best Farmers Markets in Nashville
6. Farmers Market at Urban Farmhouse – Midlothian
Where: 13849 Coalfield Commons Pl, Midlothian
When: May – September: 4 pm to 6:30 pm
Why Visit:
The Farmers Market at Urban Farmhouse – Midlothian is another one of the mid-week farmers' markets.
Bring your shopping bags, shop to your heart's desire, grab dinner and savor the summer evenings with fantastic live entertainment. They open on Wednesdays and organize events like food-centric educational programs.
Fermented drinks, cold-pressed juices, and fresh smoothies are a big hit here. Apart from your weekly bounty of fresh produce, fresh eggs, milk products, meat and bread are on offer.
Several vendors offer fashion accessories, art prints and even books. It's a kid-friendly and pet-friendly place,
Local musicians and artists are welcome each market night. If you're feeling adventurous on a weeknight, it's a great opportunity to explore the market, stock up your pantry, and have an entertaining evening.
Thursday Farmers Markets in Richmond
7. Huguenot-Robious Farmers Market
Where: 2051 Huguenot Rd, Richmond
When: Year-round, 10 am to 2 pm
Why Visit:
Presenting another gem of a mid-week farmers market. The market can be seen every Thursday morning outside the Great Big Greenhouse, and they move inside in winter.
There are delectable delicacies to be relished; we're talking Asian noodle bowls, chicken kebobs, fried rice, fresh-baked cookies, pies, tarts and so on. Fresh Virginia-grown produce, hormone-free meat, fresh bread, and prepared foods are available.
Not to forget the crafts from local artisans, there are many stalls selling artifacts, wooden décor, crochet products and much more.
Moreover, there are locally prepared dog treats and plenty of walking space for your four-legged friends, so bring your pets along. The market has ample parking; it is literally set up in a parking lot!
8. Powhatan Village Farmers Market
Where: 3841 Old Buckingham Rd, Powhatan
When: May – September, 4 pm to 6:30 pm
Why Visit:
The Powhatan Village Farmers Market is a seasonal farmers market open on Thursdays. It is nestled in the Village of Powhatan Courthouse on the scenic Bienvenu grounds.
The market is a great picnic spot and a lovely place to spend some time in nature and the open air.
It's a charming little market with vendors serving lip-smacking food to fresh local produce. There are local talented musicians for some weekday evening entertainment.
They run youth education programs to empower young entrepreneurs and fun activities for the little ones.
You can buy farm produce, organically sourced meat, raw honey, soap, baked treats, unique artisan crafts etc. Keep your eyes on the updates for holiday and farm markets and other fun markets outside of their schedule.
Where: 109 Governor Street, Richmond
When: May – September, 11 am to 1 pm
Why Visit:
OnTheSquareVA Farmers Market is part of the governor's initiative, a remarkable weekday farmers market in Richmond. The market is seasonal and is set up on Thursdays.
Also called "the afternoon market" because of its timing and lucrative lunch options, OnTheSquareVA is full of scrumptious food options!
It's a small cozy market with a small group of vendors each week. Organic farm produces, bakery sweets, bread, fresh eggs, and local coffee are up for grabs.
There are vendors selling wellness products, soaps, lip balms, homemade skincare and other beauty products.
Step up your weekday game by supporting the local communities and shopping sustainably. The market regularly organizes family-friendly festivals and events and is a great place to spend quality time together.
Saturday Farmers Markets in Richmond
10. RVA BIG Market
Where: Bryan Park, 4308 Hermitage Road 23227
When: November-April: 9 am to 12 pm, May-October: 8 am to 12 pm
Why Visit:
If you are looking for a great outdoor Saturday Farmers Market in Richmond, the RVA Big market is here for you! It's set in the scenic Bryant Park, a great way to start your weekend amidst nature close to a beautiful pond.
The RVA Big Market is specifically famous for its food. Don't worry about breakfast or brunch, head here early in the morning to help yourself to the choicest eateries, bakery goods and food trucks.
It's one of the biggest farmers' markets in Richmond, with more than 100+ vendors.
Bring your kids and pets for a walk on the lovely trails. The market serves delicious coffee roasts, fresh produce, fine arts, ceramics, and much more! Make sure you arrive early, there is ample parking, but traffic can get nasty.
Where: Ashland Town Hall, 121 Thompson Street, Ashland
When: May-October: 9 am to 12 pm
Why Visit:
The parking lot and lawn in front of Ashland Town Hall house the Ashland Farmers Market, a Saturday farmers market right in Ashland.
Besides the specified timings, the market also sets up on thanksgiving and holiday time. Stay updated via their Facebook page.
Many farmers offer pre-booking options to avoid any wastage or shortage of produce. Winners of the Metro West Daily News Best of 2022 Farmers Market, the AFM is a produce-only market, and no third-party sellers are allowed.
It features stalls serving fresh veggies, berries, eggs, cheese, honey, and lots of vegetable and flowering plants for your garden.
Many stalls sell crafts and non-food items, like soaps, cosmetics, and herbal products. If you want to visit a Saturday farmers market near Richmond, visit the Ashland Farmers Market.
Also Read: The Best Farmers Markets in the USA
12. Colonial Heights Farmer's Market
Where: 2600 Boulevard, Colonial Heights, VA
When: Year-round, 9 am to 12 pm
Why Visit:
The CHFM is a small and cozy farmers market open on Saturdays. From freeze-dried candy, pickles, and homemade fudge to local honey, you will find everything you are looking for pantry-related.
The open-air market also offers locally grown produce, meats and eggs. You can also find vegan and gluten-free food and other products like homemade soy candles, vegan bread, etc.
Look out for special market setups and offers during the festive season for a very merry family time! Support small home-grown businesses at the CHFM in Colonial Heights.
This is a lovely market for enjoying some sweet treats, savory snacks, coffee roasts, and a beautiful day out in the open.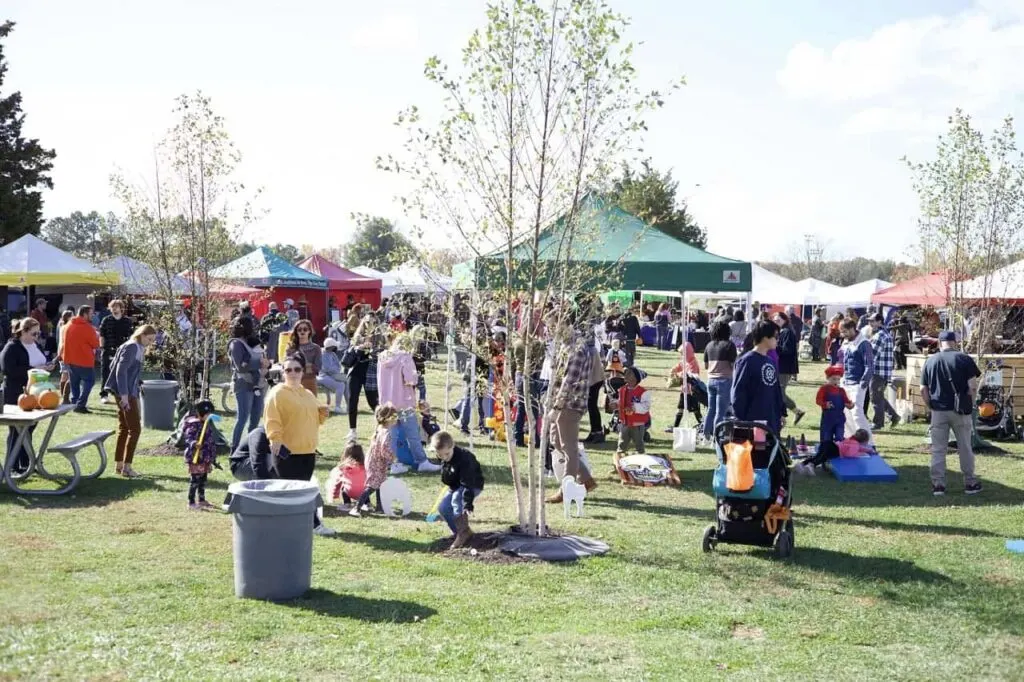 Where: 2999 Darbytown Rd, Henrico
When: June-October, 9 am to 12 pm
Why Visit:
The Dorey Park Farmers Market is a community-centered Saturday farmers market set in the expansive and beautiful landscape of 400 acres of Dorey park. There are multiple picnic spots, a dog park, a fishing pond and walking trails.
Focussed on supporting the local growers and producers of the Henrico region, they support the community and help eligible families with their grocery needs.
They organize several exciting events like evening summer concerts (free admission!) and festival markets. There is the POP club to engage, educate and entertain your children through fun crafts and exposure to veggies and plants.
They are constantly improvising and improving the market through grants and donations, so it's always exciting to visit the Dorey Park Market.
Enjoy activities like face painting, cooking demos and live music entertainment, and spend a picnic day at the park!
14. Farmers Market at St. Stephen's
Where: St. Stephen's Church, 6000 Grove Avenue, Richmond
When: October – April: 9 am to 12 pm, May – September: 8 am to 12 pm
Why Visit:
The St. Stephen's farmers market sets outside the church and moves indoors in winter. The Saturday farmers market sells meat, poultry, seafood, produce, fruit, bread, and cheese; you will meet most of your weekly grocery needs here.
With close to 25-30 vendors, it's a small market. The regulars visit the market for its limited number of booths, local produce, home-grown brands and selective food trucks.
One can rejuvenate while shopping with live music playing in the background. That sounds like a good way to begin the weekend, right?
You will find many kids' activities. Occasionally, the school band plays at the market and school kids regularly set up stalls for donations for city choirs and other activities, so it's a great place to help the community.
15. Farmers Market at Tavern19
Where: 600 Founders Bridge Blvd, Midlothian
When: May – October: 9 am to 12 pm
Why Visit:
This grower-focused market is a good option if you're looking for a Saturday farmers market near Richmond. Spend your Saturday early morning leisurely perusing through various stalls and the food and coffee booths at Tavern 19.
The market is in a park-like setting with spaces for stalls under shady trees, and it makes for a lovely day out. Plenty of parking is available, so don't worry about it.
There are picnic tables available and a stage for live performances. Lots of kid's activities, live entertainment, farm-related educational drives and programs; there is enough to grab everyone's attention.
The market is small, varying from 20 to 40 vendors on different weeks. Stock your kitchen and have a good day outside at this seasonal market.
Where: 17320 Hull Street Road, Moseley
When: May – October: 9 am to 1 pm
Why Visit:
The beautifully curated Saturday farmers market at Magnolia Green is not only produce-centric but also a great place to explore art and artisanal products.
Look out for farm produce, savories and sweet treats like empanadas, arepas, cookies and much more! To tickle your shopping bones, you can find hand-poured soaps, body scrubs, handmade paper, wooden crafts, glass gem magnets, nameplates and home décor.
Community members from the Magnolia green community participate and set up stalls. It's a great way to give back to the community.
It's a small setup, and the number of vendors is few. It makes for a warm and friendly place to begin your weekend and revel in the bright sunny day.
Where: Discovery United Methodist Church, 13000 Gayton Road, Richmond
When: Year-round, 9 am to 12 pm
Why Visit:
The West End farmers market has organic produce galore. They claim to be the only farmer-owned market in Richmond and are open on Saturdays.
It brings you the authentic farm-to-home experience. There is premium beef, poultry, eggs, fish and cheese in the number of stalls present there.
The market also features consistent produce vendors, and the new non-food product vendors keep it exciting.
It's a pleasant experience to shop for your food directly from farmers in an open-air environment. It's also an excellent place for children to learn about where their food is coming from and its carbon footprint.
There are a large number of vendors at the market; you can do your weekly shopping here or come here for a one-off experience if you are not regular.
Where: 30 River Street, Petersburg
When: Year-round, 9 am to 12 pm
Why Visit:
The River Street Market is put up year-round on Saturday mornings. It's a small market with various booths, mainly food and produce-based.
There is live music and lots of options for prepared food if you just want to pop in for a good coffee and brunch. Head down here to kickstart your weekend with some sustainable shopping.
They call themself an art community and share the space with local artisans. They switch themes and vendors according to the season, so stay updated on what they have going through their Facebook page.
If you're afraid you won't be able to reach the market early on a Saturday morning, you can pre-order your produce online through designated days of the week and pick them up on Saturday.
19. Manakin Market
Where: 68 Broad Street Road, Manakin Sabot
When: May – October: 9 am to 12 pm
Why Visit:
The Manakin market is said to be Central Virginia's most authentic farmers market! The Midlothian market is a lovely place to spend your Saturday morning if you feel like venturing out of Richmond on the weekend.
The market sells fresh farm produce, local honey, tea, coffee, jams, and nut butter. There are freshly prepared hot breakfast and brunch options. Unwind after a long week and kickstart your weekend here!
Many youth vendors bring their products and are learning the ropes of home-grown businesses.
One of the main attractions here is the farm animals, where kids can enjoy the Pony rides and petting animals like bunnies, goats, sheep, chickens and llamas.
There is live entertainment, and the artists like to engage with the audience and have a good time.
Sunday Farmers Markets in Richmond
20. South of the James Market
Where: 4021 Forest Hill Ave, Richmond
When: Year-round, 10 am – 1 pm
Why Visit:
Nestled in the lush surrounding of Forest Hill Park, the South of the James Farmers Market is a crowd favorite – kid-friendly and pet-friendly.
Open on Sundays, it is the place for you if you want to spend your morning perusing pottery goods, crafts items, fresh flowers, local hand-made products and farm produce.
The highlight is the food here; several food trucks and stalls serve freshly made lip-smacking dishes. It is home to famous food vendors like the Sammich food truck and Mrs. Yoder's Donuts, a local treasure – there is a queue, so you better get there early.
It is a great place to immerse in local cuisine, art and culture! Usually, musicians play in the open-air market, which adds to the ambiance. Parking, though limited, is very well-managed. You should carry cash, the more commonly accepted mode of payment here.
Where: City Stadium, 3201 Maplewood Avenue, Richmond
When: May – October: 9 am to 1 pm
Why Visit:
The Carytown Farmers Market is a Sunday farmers market in Richmond, open through the breezy spring-summer months. It's a small-scale market with approximately 30-35 vendors. They sell fresh farm produce, herbs and seasonal fruits.
The vendor list varies weekly, so stay updated through their website. The vendors are diverse, and there is something for everyone, including live music! There is plenty of parking available around the market.
Banana bread from the Two and a half Irish men, Alfredo's honey, and produce from Reyes farm are quite popular here.
People tend to complain about the lack of shade and sitting space in the market, but other than that, the market has a fair share of regulars.
FAQs about Richmond Farmers Markets
What is the biggest farmers market in Richmond?
The RVA BIG Market at Bryan Park is the biggest in Richmond, featuring more than 100 vendors offering exquisite quality vendors and products.
What are the good Richmond Farmers Market Saturdays?
Dorey Park Farmers Market is a great option for a Saturday market owing to its beautiful location and open-air market. The Manakin Market is yet another exciting option, especially for the variety of farm animals present in the market.
What are the good Richmond Farmers Market Sundays?
The South of the James Farmers Market is a popular choice among people to spend their Sunday mornings.
What is Richmond Farmers Market famous for?
The Richmond Farmers Market is famous for Virginia-owned produce and farm products. The local music scene is remarkable and worth exploring.
Wrapping Up – The Best Farmers Markets in Richmond
By now, you are well-acquainted with the importance of supporting your community.
Farmers' markets are a great way to explore a new place if you are visiting from outside, as you can interact with local farm owners, home-grown entrepreneurs and much more.
They are also the perfect spot to find hidden local gems for snacks, sweet treats etc. We are sure our guide is equipped with the proper information to venture out and explore these farmers markets in and around Richmond.
Image Credits:
Featured Image: Dreamstime/Christian Jung & Dreamstime/F11photo