Washington state is an enormous agricultural hub. Such cities as Seattle are full of fresh produce year-round, and it's one thing that attracts millions of visitors to the area and makes the locals proud.
Consequently, you can't really surprise anyone with a Seattle farmers market – there are a few dozen in the city and the suburbs. That's why finding a favorite farmers market in Seattle might be pretty challenging.
To make things easier for you, we have grouped the 20 best farmers' markets in Seattle by every day of the week (so that you know exactly where to head to once you wake up on a beautiful Sunday).
Our Favorite Seattle Farmers Markets
Table of Contents
Monday Farmers Markets Seattle
Where: 85 Pike St.
When: Mon-Sat 9:00 AM-6:00 PM, Sun 9:00 AM-5:00 PM
Why visit:
Pike Place Market is one of the oldest and most famous farmers' markets in Seattle and the whole of the United States.
This iconic destination is considered by some 'the soul of Seattle'. For over a century, locals and tourists have visited the market to explore the gorgeous artisan shops, dozens of produce stands, and restaurants.
Perhaps, the vibrant place's most popular attraction is the fish market. This is definitely the place to visit if you're looking for fresh seafood. By the way, it's also where you'll enjoy the unique fish toss.
Simply buy a fish and see it get thrown! The fishmongers will call out the order, and one of their colleagues will throw the fish (if you're fortunate, you might be allowed to hop behind the counter to catch your…catch).
Tuesday Farmers Markets Seattle
Where: Piazza Park, 233 Burnett Ave. South Renton
When: June-September, 2:00 PM-6:00 PM
Why visit:
Renton Farmers Market is where you'll discover the best locally grown vegetables, fruits, and flowers. You can also shop for fresh baked goods, cider, meats, wines, cheese, and more.
The market always has several 'themed' days scheduled, like Senior Day and Wellness Day, for example. Here, you can also meet up with the Master Gardeners from Washington State University and ask any garden-related questions.
Kids will never get bored at this particular farmers market near Seattle as they'll participate in various activities and learn more about the importance of fruits and veggies along the way.
Wednesday Farmers Markets Seattle
3. Columbia City Farmers Market
Where: 37th Ave S; S Edmunds St, just off Rainier Ave S., in South Seattle
When: May-October, 3:00 PM-7:00 PM
Why visit:
You will hardly find another market in the area that has freshly picked Asian greens together with Ethiopian fare.
Get cheese, bread, and pasta straight from the source, and enjoy a wide choice of fresh vegetables, fruit, and all that – without the tourists.
On some weeks, you might spot chefs demonstrating amazing recipes with products bought literally a minute ago.
Columbia City Farmers Market is located right next to Columbia Park. Here's an excellent plan for next Wednesday evening: grab a blanket and a few friends, arrive at Columbia City Farmers Market, pick out a few delicious snacks, and head to the park for a wonderful dinner-time picnic.
4. Wallingford Farmers Market
Where: 4800 Meridian Ave N
When: June-September, 3:00 PM-7:00 PM
Why visit:
One of the smallest farmers' markets in Seattle can definitely give odds to quite a few of its larger 'brothers'. You can expect to see only around 25 vendors but with fantastic quality products.
You might walk away with a few balls of fresh mozzarella, amazing kombucha, and some of the most aesthetically pleasing vegetables.
By the way, if you're searching for edible flowers to add an extra special touch to your dishes, then this is where you'll find them.
Wallingford Farmers Market might not be the best place for a quick lunch or dinner as there are only a few food stands. That said, Los Chilangos certainly deserves the attention of every taco-lover out there.
Thursday Farmers Markets Seattle
Where: Queen Anne Ave N; W Crockett St
When: June-October, 3:00 PM-7:30 PM
Why visit:
Queen Anne is the only independent farmers market in Seattle, which means that it has been built by the community for the community.
There's a wide variety of bread, cheese, honey, fruits, and flower bouquets for a great price. However, a lot of foodies come to Queen Anne's for food trucks with delicious dishes from all over the world. The market also offers chef demos, live music, and children's activities.
By the way, you can pay a visit to the place on one of the additional market days dedicated to Halloween, Thanksgiving, and Winter Solstice.
Fun fact: Queen Anne Farmers Market has its own merchandise! Anyone can buy a poster, a postcard, and even a T-shirt with beautiful artwork to support the market.
Also Read: The Best Farmers Markets in the USA
6. Lake City Farmers Market
Where: NE 125th St, 28th Ave NE
When: July-October, 3:00 PM-7:00 PM
Why visit:
Another small farmers market with just about 50 vendors that serve the residents of North Seattle. If you don't live in this area, it's worth coming to the market during one of their many special events.
During fall, for example, don't miss the chance to celebrate the most unique apple varieties (sampling is included, of course).
The Incredible Feast is an annual fundraising event – this is when the market is full of not only stands and food trucks but also various game stations that both children and adults can enjoy. Remember that you would have to buy a ticket to enter the market on this day.
Albert Davis Park is just next to the market, so after exploring the North End food access hub, you can spend even more quality time with your loved ones in the park.
Where: 1717 Bellevue Way NE, Bellevue
When: June-October, 3:00 PM-7:00 PM
Why visit:
Bellevue is a farmers market near Seattle located in a small church lot. Even though the market is relatively compact, it features a really nice selection of veggies, fruits, meats, eggs, and flowers.
If you're looking for something more unique, go for specialty sauces, seasonal popsicles, fruit wines, Indian masala chai, and candied pecans. Bluebird Ice Cream, with its delicious small-batch artisan ice cream, can also be found here.
Bellevue Farmers Market is a great place to grab something to eat, from falafels to Asian fusion cuisine. Those who want to enjoy a drink can head straight to Tin Dog Brewing which offers farmhouse ales or Drum Roll Wines.
Plenty of free parking spots are available, so come anytime. The market opens at 3 PM sharp (not a minute before or after).
Friday Farmers Markets Seattle
8. Madrona Farmers Market
Where: 1126 Martin Luther King Jr Way
When: May-October, 3:00 PM-7:00 PM
Why visit:
Madrona Farmers Market is located in one of the most diverse neighborhoods and serves residents of East Seattle right from a parking lot. Here, you'll discover a wide range of seasonal produce from local fishers, ranchers, and farmers.
It is one of Seattle's smaller markets, but you'll still find a lot of goodies. For example, salsas, cookies, hazelnuts, mozzarella, kombucha, popsicles, and much more.
Madrona Farmers Market sometimes becomes home to the Kathmandu MoMoCha food truck that serves the best Nepalese street food in the city.
Bear in mind that parking is limited in the actual market lot, but you'll definitely find a spot on one of the surrounding residential streets.
9. Phinney Farmers Market
Where: 6761 Phinney Ave N
When: June-September, 3:00 PM-7:00 PM
Why visit:
This market is a partnership between the Phinney Neighborhood Association and the Neighborhood Farmers Markets.
If you decide to pay a visit to the market with your children, the kids can have fun at the nearby playground while you shop.
Whether you're opting for an evening out or looking for something to prepare at home, Phinney Farmers Market is the place to go if you're in the area.
During most of the nights, you'll get to enjoy live music. There is even a dancefloor for those who want to shake a leg.
Even though the market is relatively small, it has a beautiful selection of vendors who are always happy to have a chat and tell more about their products. You'll find everything you need, from eggs and chicken to spinach and strawberry, for a good meal.
Saturday Farmers Markets Seattle
10. University District Farmers Market
Where: 5031 University Way NE
When: year-round, 9:00 AM-2:00 PM
Why visit:
Our first Saturday farmers market in Seattle is arguably one of the most popular markets in the city. Located in the U-district neighborhood, this largest food-only market features around 80 vendors. Some of the farmers have been selling their produce here since 1993.
By the way, amateur and professional chefs like to source unique ingredients for their restaurants at the University District Farmers Market, as this is where you'll come across some foods that can't be found elsewhere.
Summer is, of course, the most exciting time of the year as you can get your hands on amazing fruit. But it doesn't mean that the stands are empty during winter. You can still buy great pasta, eggs, hummus, bread, and many other things.
Don't miss Loki Fish Company while you're there – this family-owned business has a wonderful selection of fish straight from their boats.
Where: 139 9th Ave N
When: May-September, 11:00 AM-4:00 PM
Why visit:
The largest street market in Downtown Seattle (even though it's only one street long) is located in the heart of the South Lake Union neighborhood. It sometimes features more than 75 booths and has near-weekly rotating themes.
These 'themed' days usually have 10-15 local shop pop-ups gathered for a particular event. For example, during the Ice Cream Social, everyone had a chance to try the frozen dessert from quite a few ice cream vendors.
Enjoy live DJ sets while snacking on the Shrimp and Grits (from Kiss My Grits) or the flavorful piroshki. If you see True North Roasters while you're there, make sure to grab a pack of top-quality coffee (they say it's the best coffee in the city).
Where: West McGraw Street, 33rd Ave W
When: June-October, 10:00 AM-2:00 PM
Why visit:
A cute Saturday farmers market is nestled in the heart of the Magnolia Village. The market has been operating since 2003.
Nearly two decades later, it continues to grow in popularity, and it's safe to say that the market has become a gathering spot for the people in the area.
Magnolia usually lasts until the very end of October, which is quite rare for seasonal markets. The place is full of locals, as you'll rarely find a tourist wandering around here.
That's one of the reasons why the market has a friendly neighborhood vibe that makes the visitors come back every week.
13. South Delridge Farmers Market
Where: 9421 18th Ave SW
When: July-November, 11:00 AM-3:00 PM
Why visit:
This small Seattle farmers market is hosted by the African Community Housing & Development. The market features fresh, local food produced by Black, Indigenous, and People of Color-owned businesses.
Vendors are not charged a participation fee. Moreover, small businesses are provided with equipment and support while the market is up and running.
Another cool thing about this initiative – any leftover produce will get purchased by ACHD at the end of the day to help eliminate food waste.
There is plenty of sustainably grown produce for you to choose from, but we would definitely recommend trying out some unique dishes as well.
Here, you'll find stands with Southern-inspired baked goods, Senegambian cuisine, Caribbean-inspired popsicles, and so much more.
14. Issaquah Farmers Market
Where: 1730 10th Ave NW, Issaquah
When: May-September, 9:00 AM-2:00 PM
Why visit:
Issaquah Farmers Market can become a great stop during a weekend getaway. The place is close enough to Seattle, but at the same time, you'll get a chance to have a rest from the hustle and bustle of the city.
Of course, the fresh produce is a good enough reason to pay a visit to this market. But the surrounding views are a pleasant bonus (the market lies in the shadow of the mountains).
The local mushroom vendor is especially popular, but you might also be unable to leave the market without some organic meat, baked goods, dried apple chips, and Rainer cherries. There are quite a few food options as well.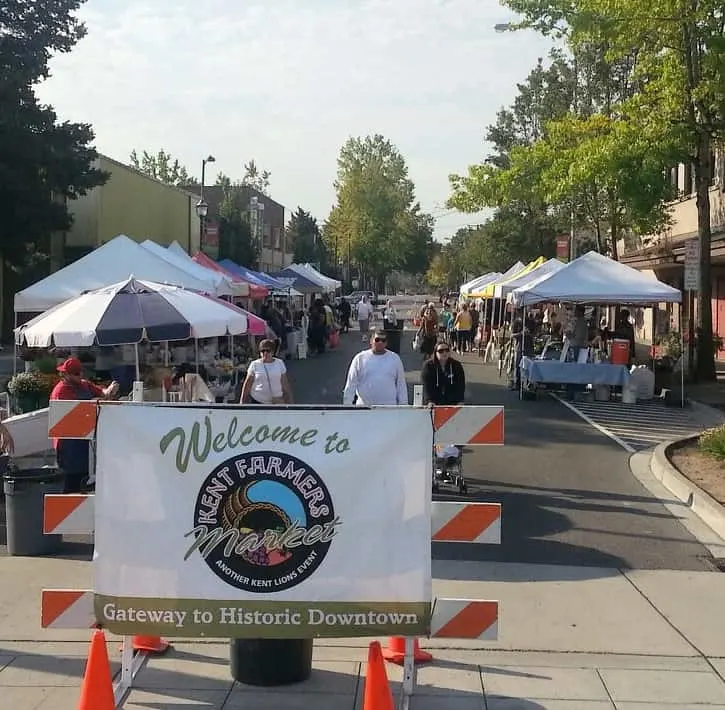 Where: 115 2nd Ave N, Kent
When: June-September, 9:00 AM-2:00 PM
Why visit:
Kent has been an 'incubator' for exciting food businesses for years already. So, no wonder its farmers' market deserves the attention of passionate foodies.
By the way, the market is located right next to Kent Library and close to Historic Downtown Kent – the perfect place to begin the exploration of the city if you're here for the first time.
Fresh roasted corn, teriyaki beef jerky, Puerto Rican hot sauces, jalapeno pepperoni sticks with cheese… These are just a few examples of the mouthwatering goodness that you'll be able to find at Kent Farmers Market.
The market is also famous for its flower stands with gorgeous arrangements for a pleasant price.
Where: 1701 S 320th St, Federal Way
When: May-October, 9:00 AM-3:00 PM
Why visit:
This is another small farmers market set up in a shopping center parking lot.
The number of vendors varies and if you truly want to experience everything that the market has to offer, come in the middle of the summer. However, even later in the fall, you'll be able to find cool stands with Washington-grown produce, baked goods, olive oil, and honey.
There are also quite a few places where you can grab something to eat. All the prepared foods reflect the town's diversity – you'll find Mexican Street Corn (Esquites) right next to Hawaiian shaved ice.
There are many events scheduled at the market throughout the season, so make sure to check the program.
Sunday Farmers Markets Seattle
Where: 5345 Ballard Ave NW
When: year-round, 9:00 AM-2:00 PM
Why visit:
The first farmers market started selling produce exclusively from Washington state farmers.
It has been open since 2000 and today features all the standards and a few quirky 'additions', like locally grown saffron strands. However, unlike a lot of other markets, Ballard Farmers Market is dog-friendly.
This place is definitely not for those who are fans of tranquil Sunday mornings. The market can get quite busy, and it's relatively big. If you're willing to people-watch and get lost in fun, then search no more.
Where: 3401 Evanston Ave N
When: year-round, 10:00 AM-4:00 PM
Why visit:
One of the longest-running year-round Seattle farmers' markets features over 150 vendors. Perhaps the best part about visiting this specific market is that you'll be able to enjoy the incredible water views while you shop.
The place is basically two markets in one. The farmers market is always bursting with various delicacies for your table, while the street market is full of collectibles, vintage clothes, and jewelry. There is also an area dedicated just to food trucks.
Remember that the market moves underneath the Aurora Bridge in the winter.
Where: E Denny Way between Broadway; 10th Ave E (aka E Barbara Bailey Way)
When: year-round, 11:00 AM-3:00 PM
Why visit:
This farmers market starts a little later, which makes it the perfect spot for a relaxing Sunday brunch. All the party lovers, who like hitting the dancefloor on Saturdays, will appreciate the wide choice of post-partying treats (like donuts and tamales, for example).
Here you'll find not only popular vendors that are presented on most other markets but also gems like Grain Bakery that have an array of gluten-free and vegan options.
Where: Cnr SW Alaska St &; California Ave SW
When: year-round, 10:00 AM-2:00 PM
Why visit:
West Seattle Market is, perhaps, the best Sunday farmers market in Seattle because of its location – right in the retail center of West Seattle.
This means that you can easily end up spending the whole day in the area – get some fresh produce from a few of the over 70 vendors and then head to the record store or the bookshop on California Avenue.
By the way, you can also stumble across beer and wine tastings while at the market.
FAQs about Seattle Farmers Markets
What is the biggest farmers market in Seattle?
The University District Farmers Market is the largest food-only Seattle farmers market. It features around 80 vendors and has been a city favorite since 1993.
What are the good Seattle Farmers Market Saturdays?
Magnolia, University District, and Kent Farmers Markets are worth paying a visit to on a Saturday. South Lake Union Saturday Market is also a must-see.
What are the good Seattle Farmers Market Sundays?
Capitol Hill, Ballard, and Lake Forest Park Farmers Markets are open on Sunday mornings. Pike Place operates all week, so you can also spend some time there.
Wrapping Up the Best Farmers Markets in Seattle
We are sure that our list helped you discover at least a few Seattle farmers markets that you'll happily pay a visit to next season (or possibly next week).
Spending an hour or two at the market is not just about buying some fresh produce (though that's amazing as well); walking around a farmers market in Seattle is also about cultivating a sense of community and supporting local brands. Oh, and having the time of your life, of course.